This post is a summary of the Udacity Robotics Nanodegree Lab on localization using Monte Carlo Localization (MCL). The Udacity repo can be found here
To follow this tutorial, clone the repo to a folder of your choice.
Monte Carlo Localization Algorithm
C++ Implementation
The following headers are used in the lab, which are mainly from the standard c++ library. One exception is the third party plotting library found here that uses python's matplotlib as its backend.
Next, some global variables are defined for the fixed landmarks and the world size. The random generator gets initialized and a forward declaration of two functions is made, namely mod and gen_real_random.
Robot Base Class
The lab uses a robot class that initializes a robot with a random x and y location and orientation in its constructor.
The class has the following public member variables
It uses the follwoing private methods
Global functions
Other useufl global functions
Visualization
For visualization matplotlib is used as backend.
Main
Compile and Run
Compile with
And finally run the program with
This will output:
Results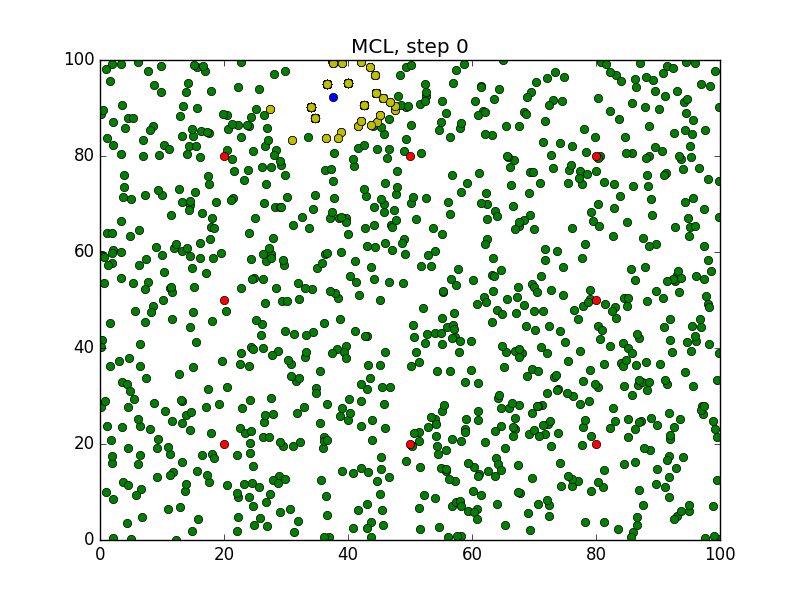 Links
Further details about MCL are found in the paper of Sebastian Thrun et al.
Reference
This post is a summary of the MCLLab from the Robotics Nanodegree of Udacity