All factory patterns encapsulate object creation and there are two ways to use this pattern.
Factory Method
The Factory Method Pattern defines an interface for creating an object, but lets subclasses decide which class to instantiate. Factory Method lets a class defer instantiation to subclasses.
In this pattern an abstract creator class defines an abstract factory method that the subclasses implement to produce products. Often the creator contains code that depends on an abstract product, which is produced by a subclass. The creator never really knows which concrete product was produced. Therefore, the intent of factory method is to allow a class to defer instantiation to its subclasses.
Factory Method relies on inheritance: object creation is delegated to subclasses, which implement the factory method to create objects.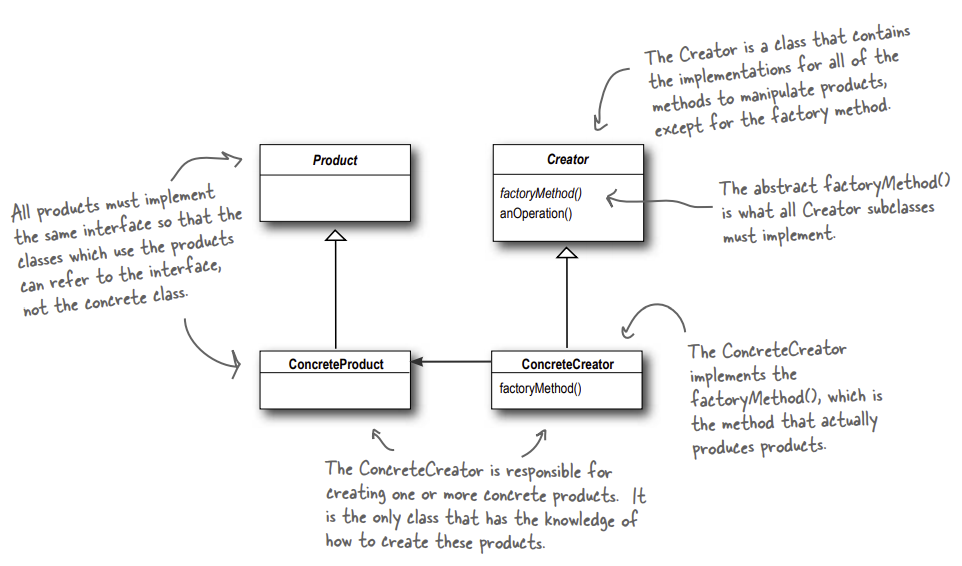 In the example the abstract creator is PizzaStore. This class contains the abstract factory method abstract Pizza createPizza(String item) that all concrete classes must implement. Beside this abstract method this class can contain additional methods that manipulate a product, Pizza orderPizza(String type) in this example.
Next, follow two implementations of the abstract PizzaStore class. Both of these implementations implement the abstract factory method, createPizza() in this case.
All the products must implement an interface which can be used by the creator and other classes that use the product.
This abstract product is implemented in the following two examples.
The PizzaTestDrive shows an example how to use the Factory Method.
Running this program results in the following output.
Abstract Factory
The Abstract Factory Pattern provides an interface for creating families of related or dependent objects without specifying their concrete classes.
Abstract Factory relies on object composition: object creation is implemented in methods exposed in the factory interface. The intent of Abstract Factory is to create families of related objects without having to depend on their concrete classes.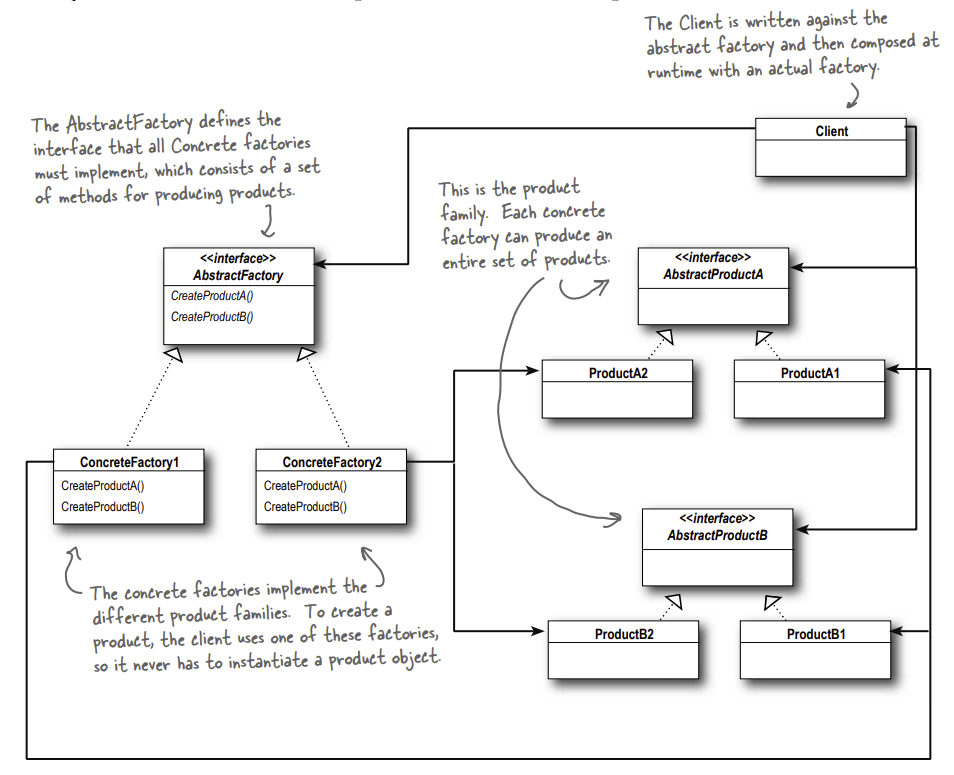 Example using Factory Method and Abstract Factory
In this example the previous example of the Factory Method gets extended to show how an Abstract Factory works.
The public interface PizzaIngredientFactory is implemented as an abstract factory that can create families of products (the ingredients). Methods to create products in an Abstract Factory are often implemented with a Factory Method.
Each product has its own interface
Concrete implementations of these ingredient interface follow in the next code snippets.
Each concrete subclass of the abstract factory class, IngredientFactory, creates a family of products.
Here is another subclass that implements the abstract factory and therefore creates another family of products.
The creators, in this example the PizzaStore implementations instantiate the abstract factory classes.
All these changes require that the product interface itself can use the ingredients from the different factories. The prepare method is now abstract which will get implemented in the different kinds pizzas. This function uses the ingredients making use of the ingredient factory.
Every concrete pizza needs to be composed with a ingredient factory member.
To create some products or pizzas the same test program can be executed listed above.